There are so many different ways to grow a garden, from traditional
furrow
beds, to window boxes and everything in between. My absolute favorite way to grow
annual
veggies is in a raised bed planter.
A very manageable size raised vegetable bed at
Austin-East High School
What is a raised garden bed?
Raised bed gardening is easier on my knees and back because I don't need to bend over nearly as far to plant, weed, water, or harvest. There's also typically less weeding in a raised bed situation because it is difficult for creeping weeds to sneak into the garden from the sides.
There's more than one way to build a raised garden, and a variety of raised bed kits are available online or through local garden centers. However, kits can be expensive and some may even be more difficult to assemble than constructing your own. It can be difficult for home gardeners to choose a style or to decide whether to buy a kit or design and build themselves. For this reason, some people never make it past the planning stage stage.
If this is the year that you're finally going to build a raised garden, then I suggest starting with this very simple and inexpensive plan. All you really need is some lumber, posts, and soil to get started. Sounds easy, right?
To build a raised garden, you'll need:
Posts. I suggest:
Sides. I suggest:
Soil
Tools
Building your raised garden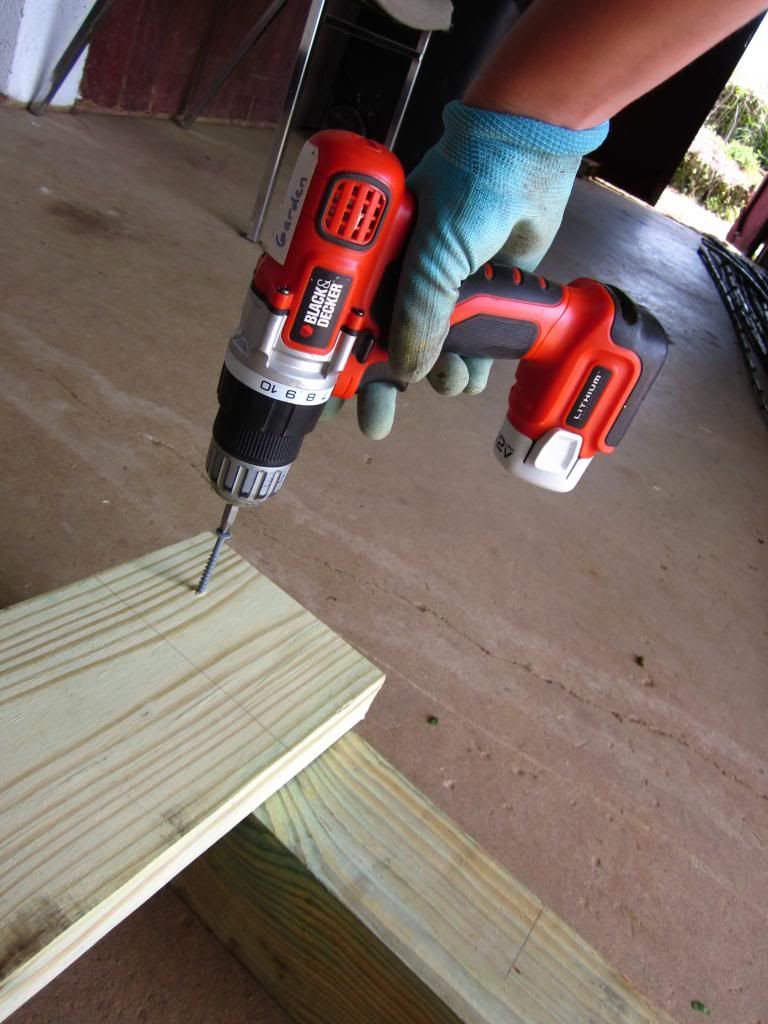 I prefer only put one nail or screw in a board
at first, so that I can move the lumber a bit
if I need to make adjustments.
Lay your lumber on the ground where you would like to build your raised bed. Step back and visualize what the garden will look like once it's constructed. Will your garden get enough sunlight? Most vegetable plants will need six or more hours of direct sunlight a day. How far away is the closest water source? Are you on a slope?
When you have decided on a final location, mark the corners of where your bed will go. Before construction, the grass or other plants that are already on the site will need to be killed or removed. For smaller beds, it will be relatively easy to remove weeds with a flat edge shovel. You should be able to scrape up the plants (roots and all), leaving bare soil. Killing the weeds is an alternative to removing them mechanically. The weeds can be killed with
horticultural vinegar
, a
broad spectrum herbicide
, or even
boiling water
.
Once your bed is clean of existing plants, it's time to dig your post holes. If you don't have a post hole digger, a shovel will do.
Construction is pretty simple -- put the posts in the holes, and nail on the sides. This method can be a little bit sloppy; so I prefer putting the bed together in phases. First, build the ends of the bed. Nail or screw the two shorter boards to the posts for each side. It helps to just add one screw or nail at first, so the boards will be a little moveable. This way you have a little wiggle room if the bed needs to be adjusted a bit.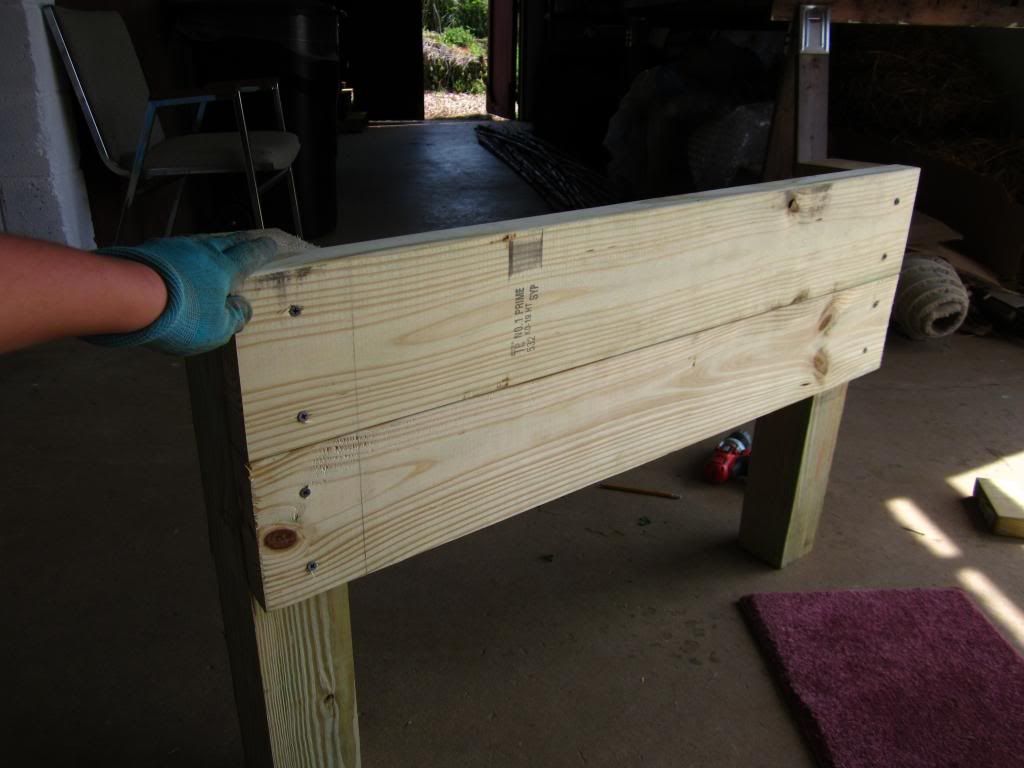 I prefer to build the ends of the bed first
Place the end of the bed in the post holes. Are the ends straight? Are the holes deep enough? Make any necessary adjustments, then attach the sides of the bed. Go back and add the second screw or nail to each board so your garden bed will be more sturdy.
Once the bed is built, fill soil back around the posts and press firmly. Add topsoil, plants, mulch and voila! You have successfully completed your raised bed garden!
If you have any questions, comments, ideas, or suggestions, I love to get
email
!
What are your experiences with raised bed gardening? What is your favorite pre-fab kit? What is your favorite raised bed style?
This clip includes video of volunteers building raised garden beds beds at the Knoxville Botanical Garden & Arboretum's "Every Child Outdoors" Youth Vegetable Garden.